Pickleball paddle custom is an option for many players. According to the official standards of the PPA, there are no fixed sizes, weights or thicknesses of paddles, and in the pursuit of the best playing experience, nothing is more important than making a paddle that fits your needs. Due to the large surface area of the paddle and the solid flat surface, it is obvious that the graphic design of the Pickleball Paddle surface is where the most personalization takes place. Ready to design a unique paddle for yourself?
Custom pickleball paddle Key Features
1. Pickleball Paddle Picture Customization
If you want a cool pickleball paddles, colors and patterns are the key. We encourage  to upload your favorite pictures, letter combinations, icon and emojis to add to the racket surface. We'll make every custom racket unique in the world!
Photo Pickleball Paddle Custom
Monogram Pickleball Paddle Custom
Your Pet on Pickleball Paddle
Create Your Pickleball Paddle
Cute Pickleball Paddles
Cartoon Pickleball Paddle
Storm Pickleball Paddle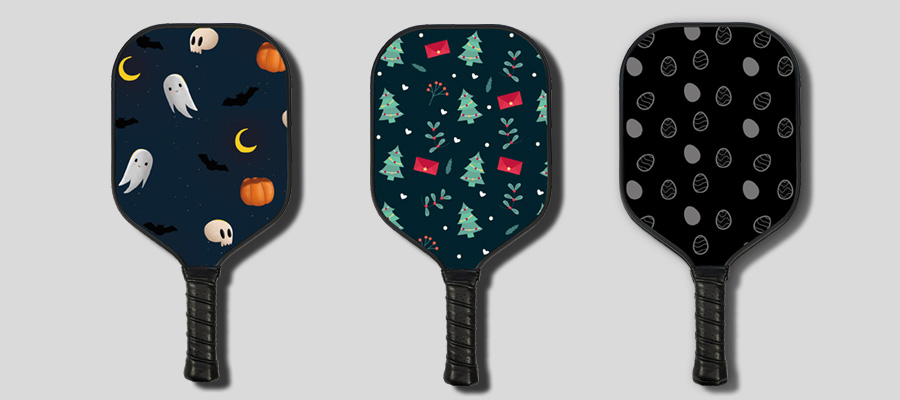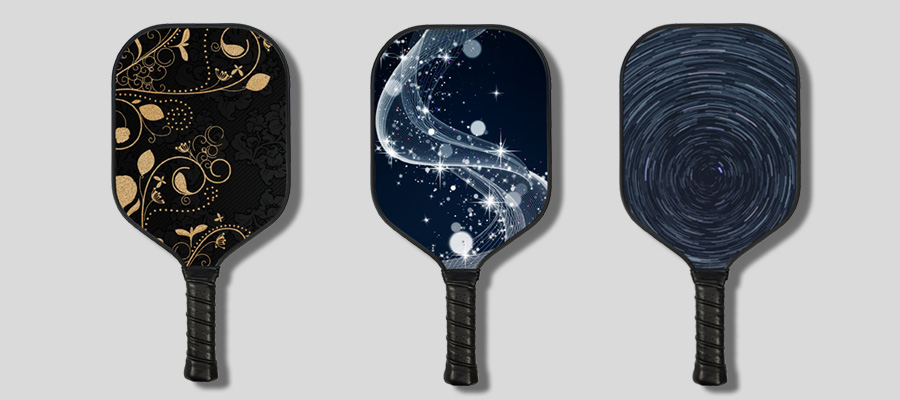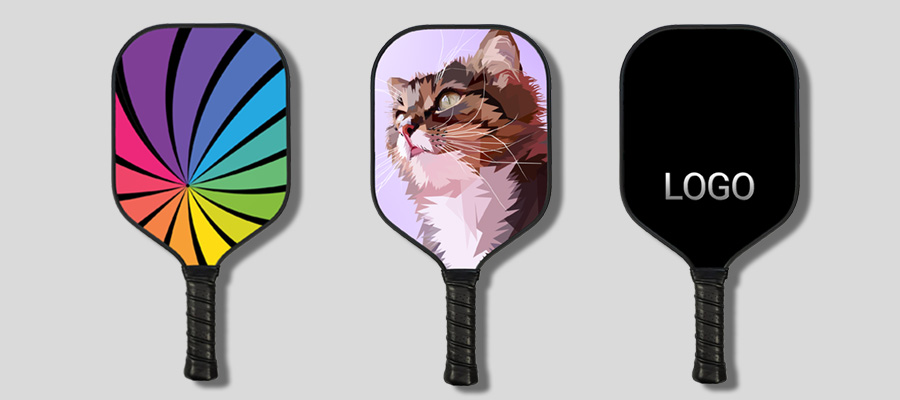 2. Pickleball Paddle Weight
The weight of Pickleball Paddle will directly affect the catching power of the paddle and the speed of the ball, too heavy paddle will also cause damage to the elbow, so to ensure the pleasure of hitting the ball without affecting the elbow.
It is crucial to customize the paddle to match your weight. pickleball players can choose different weight of paddle according to the power they need, it is generally recommended that Beginners should start with a lighter paddle and gradually increase the weight to suit yourself.
| Specification | Weight | Thickness |
| --- | --- | --- |
| | | |
| | | |
| | | |
3. Pickleball Paddle Size
The standard pickleball paddle size is 16 inches long and 8 inches wide. This paddle is guaranteed to be less than the standard specified 24 inches in any direction (the total length of the handle and paddle) and the paddle size requirement is no more than 17 inches.
The size of the Pickleball Paddle can affect serve, elbow health and catching sweet spot. The wrong paddle size, especially handle size, can affect power and balance and can also lead to tennis elbow. Choosing the right size paddle is critical to winning the game and elbow health.
| Your height | Paddle Handle circumference |
| --- | --- |
| | |
| | |
| | |
There is a simple method is the finger length test, hold the handle with your hand, the distance between the fingers and the palm of your hand for the width of your index finger is the right size, too close means a too small size, too far means a too large size.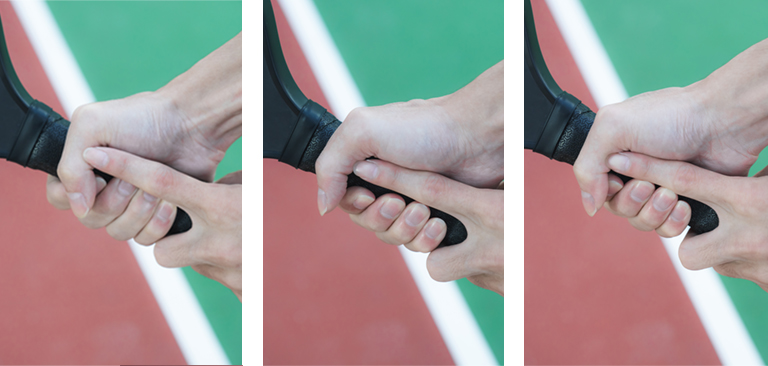 4. The Shape Of The Pickleball Racket
Since there is no standard shape of pickleball racket directly, the shape will vary from manufacturer to manufacturer, but most of them are mainly slender and oval, and the impact of different shapes on playing will be different. racket shape impact reference:
Elongated Paddle : longer handle, for Beginners
Pros:
Good flexibility, easy to control
Less stress on arms and elbows
Light weight
Cons:
Lack of power
Hard to hit deeper balls
Require more muscle strength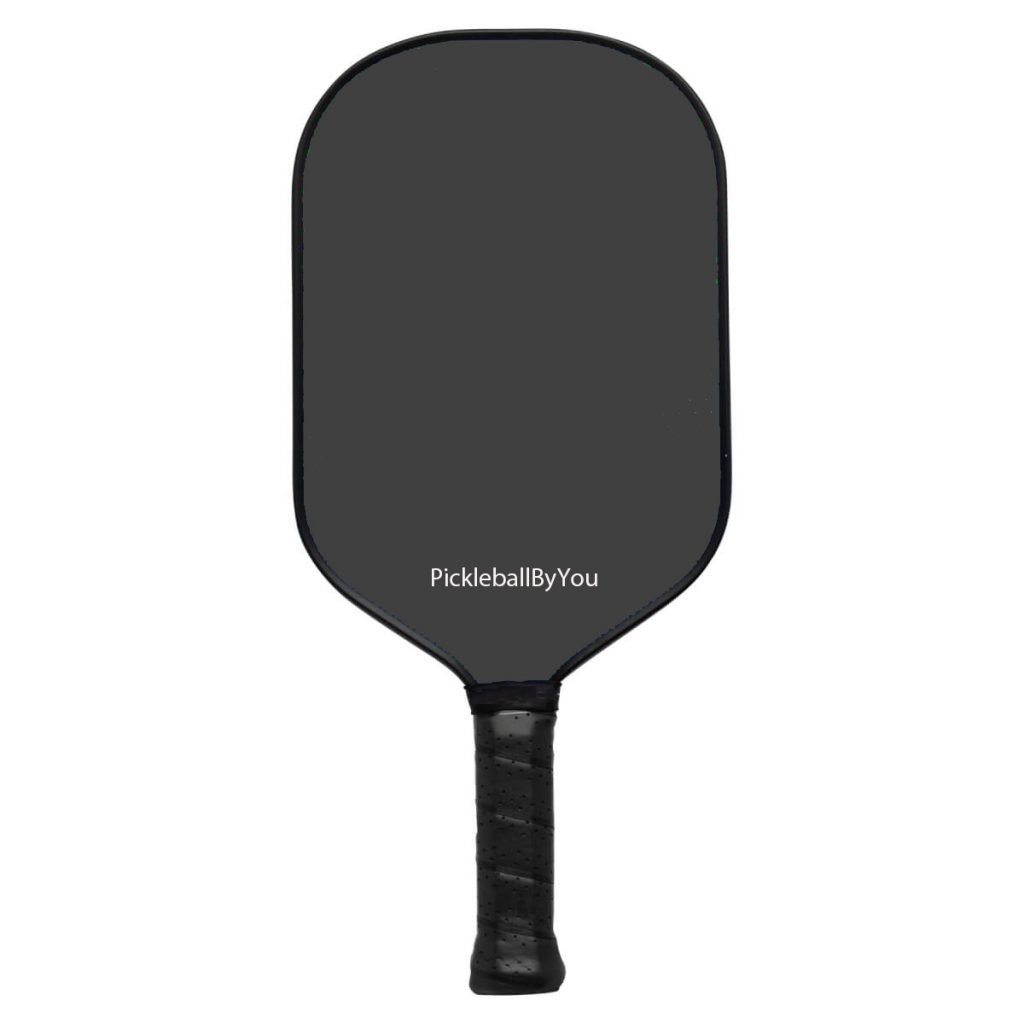 Classic Paddle: larger paddle area, for the Next Level
Pros:
Easy to hit deeper balls
Powerful, saves energy
Easier to control the spin of the ball
Cons:
Less flexibility, slightly less control
More stress on arms and elbows
Heavy weight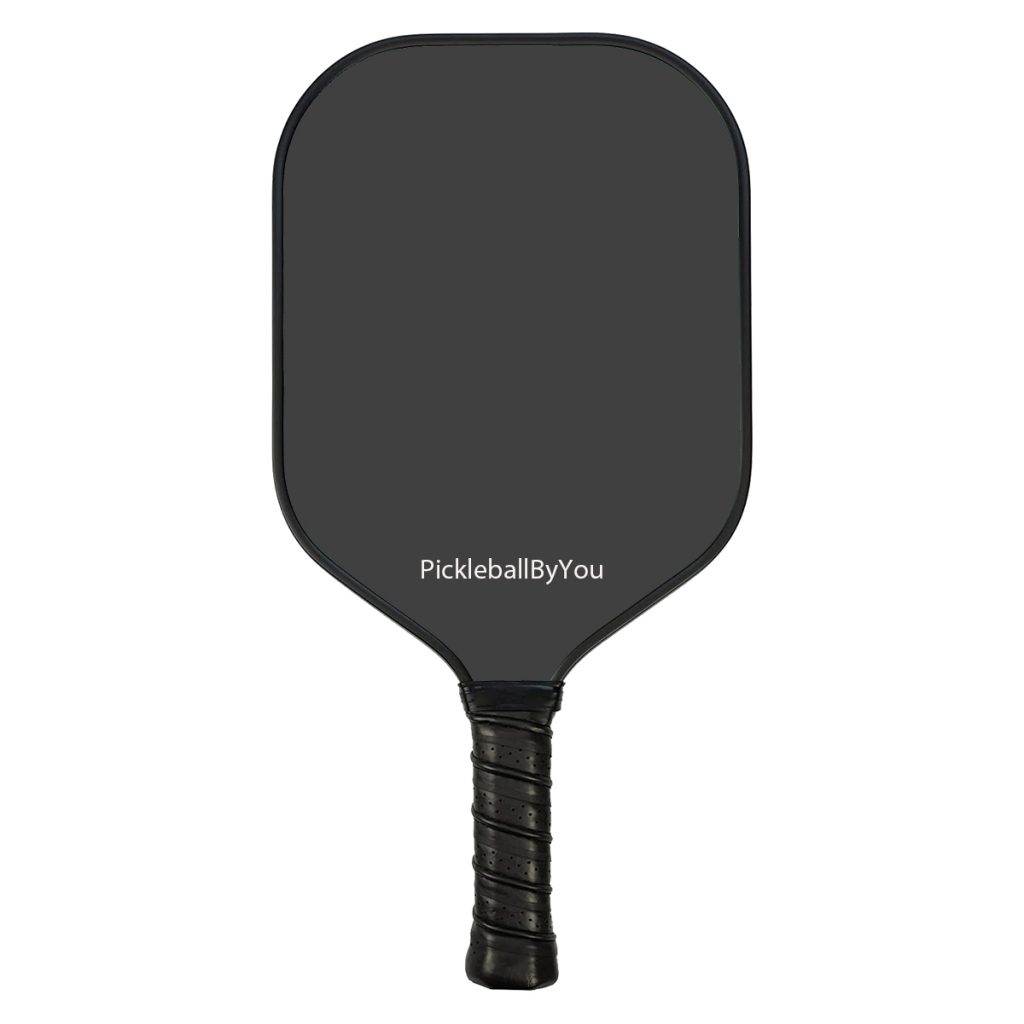 5. The Material Of The Paddle
The material used to make the paddle is a decisive factor in choosing a paddle. The material affects the weight, strength, hardness and durability of the paddle, and of course the price varies greatly from material to material. The materials are divided into panel materials and core materials. The most common pique paddle panel materials include wood, glass fiber composite, carbon fiber and graphite. Core materials are generally aluminum, cellular polymer and Nomex.
Panel Material Comparison
Cheap
Not durable
Very heavy
Great power
Expensive
Good control, durable
Light(with a surface of less than 1mm)
Hard
Cheap
Low firmness
Heavy
Most powerful
Perfect control
Not durable
Slightly Underpowered
Light weight
Low sound
Cellular Polymer(balance)
Good control
Soft texture
Powerful
Light weight
Low sound
Fast hitting speed
Durable
Most powerful
Heavy
High sound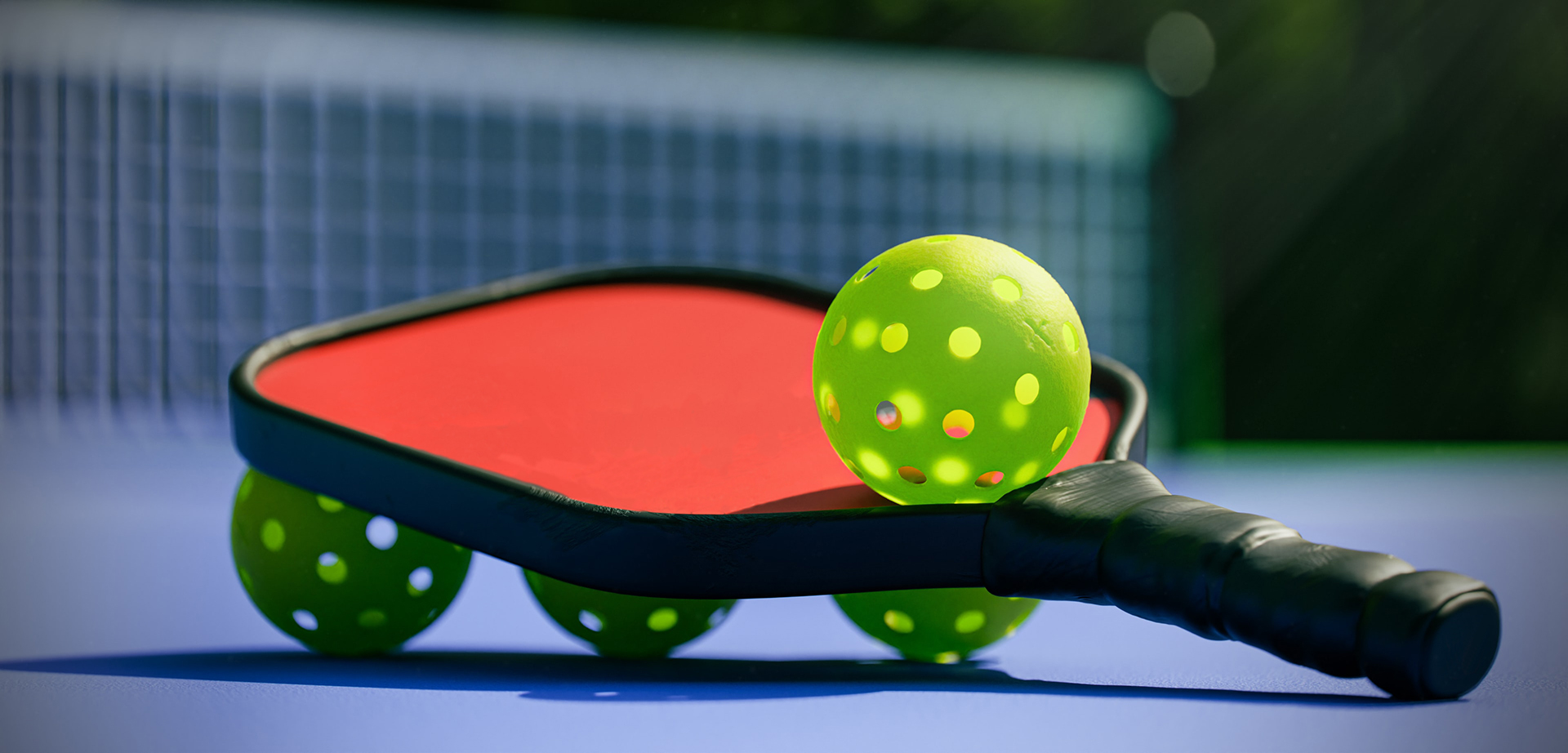 What is a custom pickleball paddle?
Custom pickleball paddle is to completely design your own pickleball paddle, you can put your favorite images or team logo on the custom paddle page to preview and we will print it on the paddle when you submit your order. Here are some ideas provided for reference.
Cool pickleball paddles
Cute pickleball paddles
Cartoon pickleball paddles
You can also send us an email with your ideas and we will design them for you.
Why should I create my own paddle?
Too many cookie-cutter paddles, we wanted to offer you something a little different. Create a channel where you can better express your personality, hobbies or beliefs.
Will making my own case be expensive?
It woundn't be more expensive than other paddles, because we have our own factory and equipment for production, and we offer you personalized pickleball paddle as an extra service to guarantee the quality. If you need us to design your own custom pickleball paddle for you, there is no charge at the moment. You can boldly purchase custom printed pickleball paddles.
Is it hard to make my own packleball paddle (racket)?
Customizing pickleball paddle at Pickleballbyyou is as easy as uploading a picture from your phone or PC, or getting a photo directly from your Facebook, Instagram or Google account. And use the online customization function on our website to add stickers, patterns, filters and other custom pickleball paddle designs, then we will print on the pickleball paddle and deliver it to you.
How do I customize my pickleball paddle (racket)?
All you need to do is simply provide us with a favorite picture or logo, send it to us, and place your order. Wait patiently for 2 weeks to receive your own custom pickleball paddle.
What is the difference between PickleballByYou custom pickleball paddle and your own Diy pickleball paddle?
Custom pickleball paddle at PickleballByYou
Easy (upload a picture on the website to customize)
Fast (production starts immediately after you place an order and it will be delivered to you)
Fit in your hand (we have professional product designers to create the best grip for you)
Save time (you can learn more about pickleball in advance)
Diy pickleball paddle
Tedious (buy all kinds of materials)
Complicated (you need to cut and splice the materials after you receive them)
Low quality (the paddle will not last for various reasons)
Pickleball Paddle Data Sheet
Equipment-Standards-Manual