How to Custom Pickleball Paddle?
In the modern paddle market, personalization and customization have become a popular trend. For Pickleball, more and more people are choosing to customize their paddles in terms of functionality and design to showcase their personal style and uniqueness. Custom pickleball paddles not only allow players to stand out on the court but also provide them with a sense of pride in their individuality. This article will delve into the relevant knowledge of custom pickleball paddles. Whether you want to add personal logos, favorite patterns, or select special materials, the following suggestions will help you achieve this goal.
What is Custom Pickleball Paddle?
A custom pickleball paddle refers to a specifically designed and personalized paddle for meeting players' individual preferences in terms of patterns and functional requirements. It involves personalizing various aspects of the paddle, such as visual appearance, grip size, shape, weight, and materials used, combining design and functionality into a professional pickleball paddle.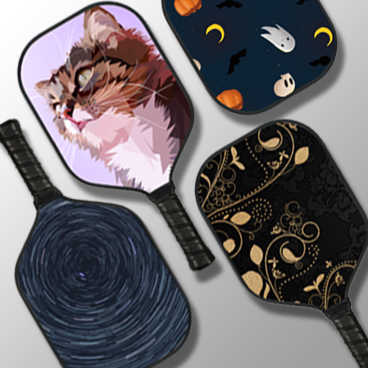 Benefits of a Custom Pickleball Paddle
Compared to standard off-the-shelf paddles, a custom pickleball paddle offers several advantages. Here are some benefits of using a customized pickleball paddle:
Personalization:

With a custom pickleball paddle, you have the opportunity to design a paddle that reflects your personality and style. You can choose attractive colors, graphics, and materials that make it a unique extension of your playing identity.

Ideal weight and balance:

Custom paddles allow you to choose the weight and balance that suits your playing style and preferences. Different players have different weight preferences for paddles, and a custom paddle enables you to flexibly find the perfect balance for your game.

Enhanced performance:

Custom paddles can be tailored to enhance specific aspects of your game. Whether you want more power, control, or spin, you can fine-tune the paddle's design, core materials, surface texture, and other features to optimize your performance on the court.

Comfort and grip:

Custom paddles offer customized grip sizes to ensure a comfortable and secure hold. This is particularly beneficial for players with specific hand shapes, grip preferences, or potential hand or wrist issues.
Considerations for Custom Pickleball Paddle
By keeping these considerations in mind, you can create or choose a custom pickleball paddle that suits your needs, complies with regulations, and enhances your game on the court.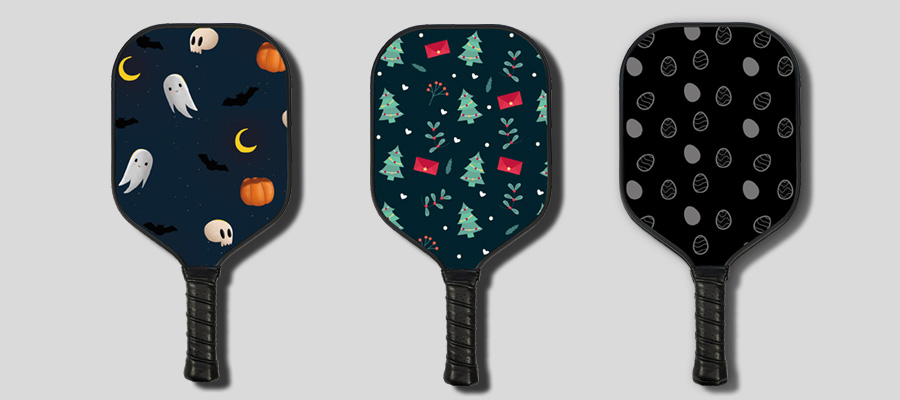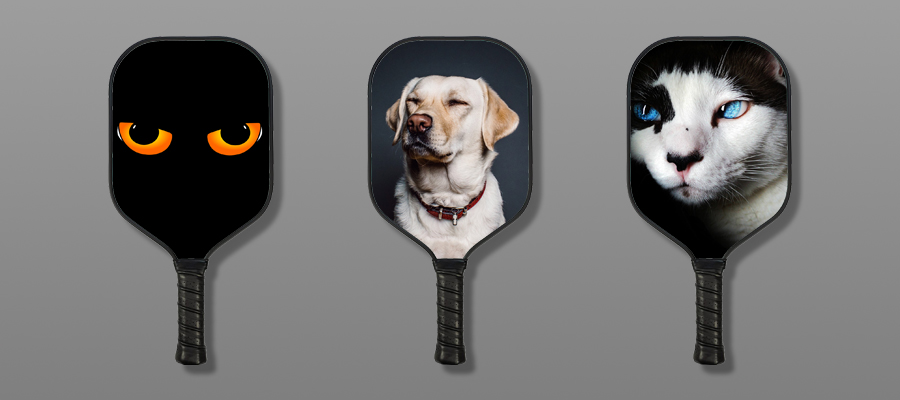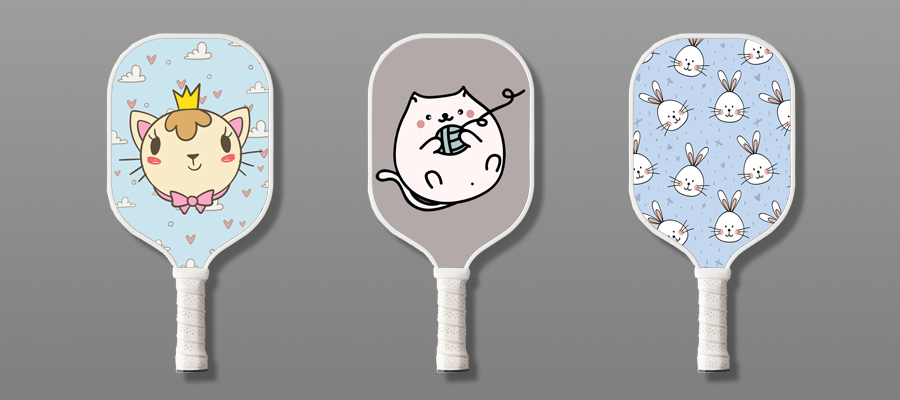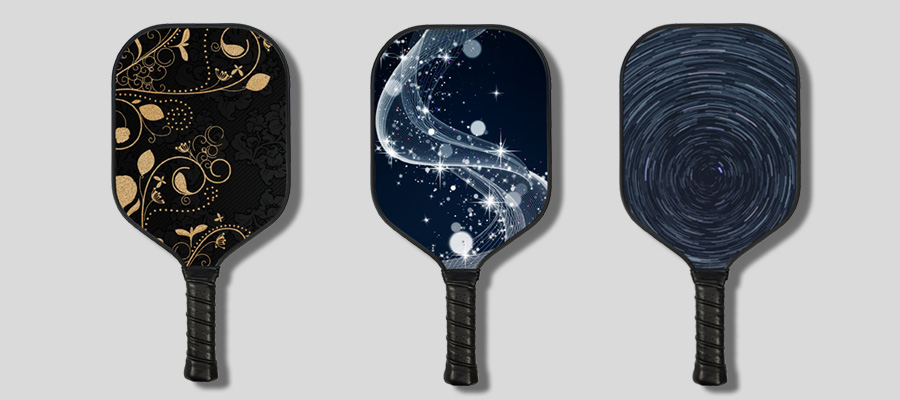 When designing an image for your custom pickleball paddle, it's important to consider the following key points:
Image resolution:

Ensure that the image you provide has a high resolution to maintain clarity and sharpness when printed on the paddle face. Low-resolution images may appear pixelated or blurry, reducing the overall visual impact.

Color selection:

Choose colors that complement each other and align with your personal preferences. Ensure that the colors you choose stand out against the background of the paddle. Bright, contrasting colors often create designs with greater visual impact.

Design balance:

Strive for a balanced and visually appealing composition. Consider the overall aesthetic of the design, the spacing between elements, and the overall impact of the design as a whole. Experiment with different layouts and arrangements to find the layout and arrangement that best suits your design.
The choice of weight for a pickleball paddle affects the power and speed of your shots. For athletes with limited strength, an excessively heavy paddle can lead to tennis elbow, so it's important to protect your elbow while maintaining your level of play.
Therefore, the custom pickleball paddle needs to match your overall strength. If you're a beginner pickleball player, we recommend choosing a lighter paddle and updating your paddle as your rating increases.
| Specification | Weight | Thickness |
| --- | --- | --- |
| | | |
| | | |
| | | |
The official size of a pickleball paddle is 16 inches in length and 8 inches in width. The paddle needs to maintain an overall length of less than 24 inches, and the paddle face should not exceed 17 inches.
The size of a pickleball paddle affects the sweet spot for hitting the ball. Hitting the ball within the sweet spot ensures the highest quality of return shots, which is crucial for winning the game.
| Your Height | Paddle Handle Circumference |
| --- | --- |
| | |
| | |
| | |
There is no unified standard for the shape of a pickleball paddle, but research and professional player testing have shown that it is commonly either elongated or classic-shaped.
Longer handle, suitable for beginners.
Advantages:
Better maneuverability and control

Reduced pressure on the arm and elbow

Lightweight
Disadvantages:
Less power

Difficult to hit deeper shots

Requires more muscular strength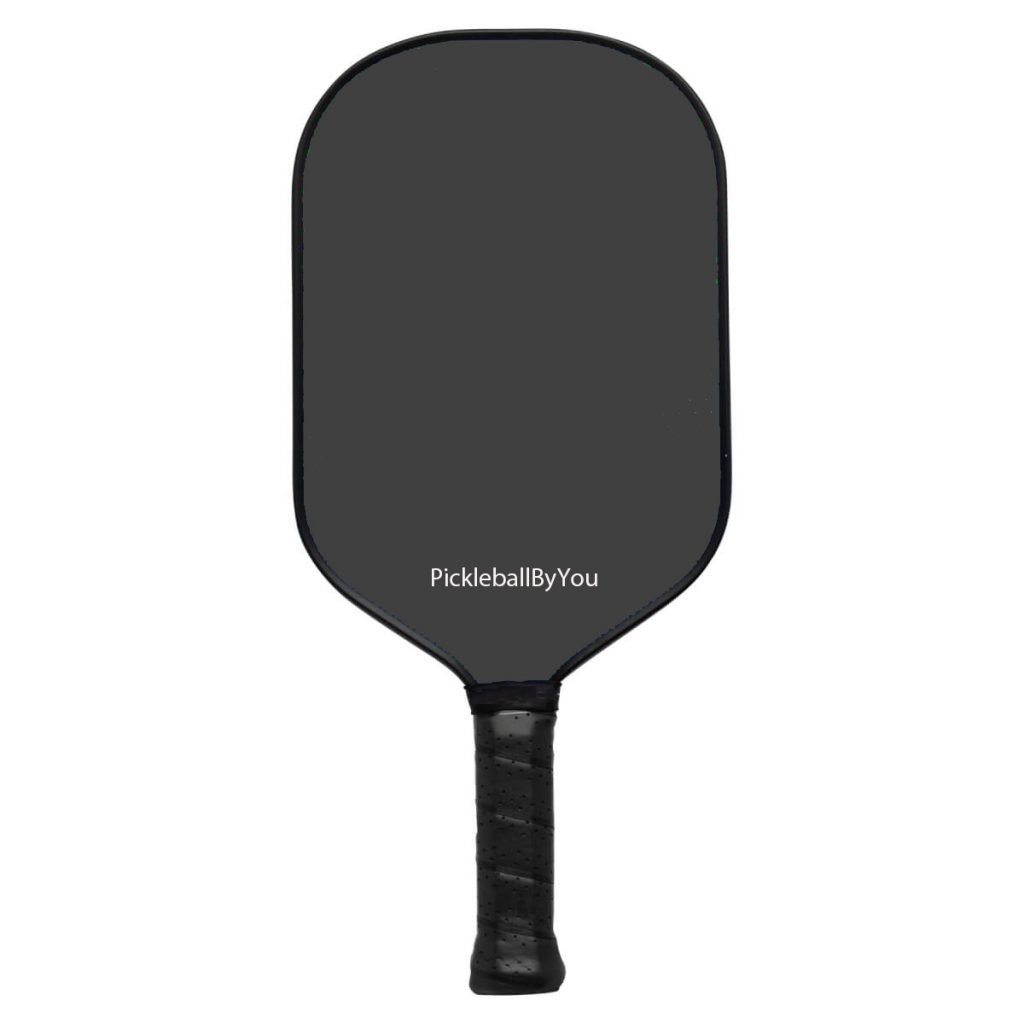 Larger paddle face area, suitable for professional players.
Advantages:
Easier to hit powerful shots

Great functionality, conserves energy

Better control of ball spin
Disadvantages:
Lower flexibility

More pressure on the arm and elbow

Heavier weight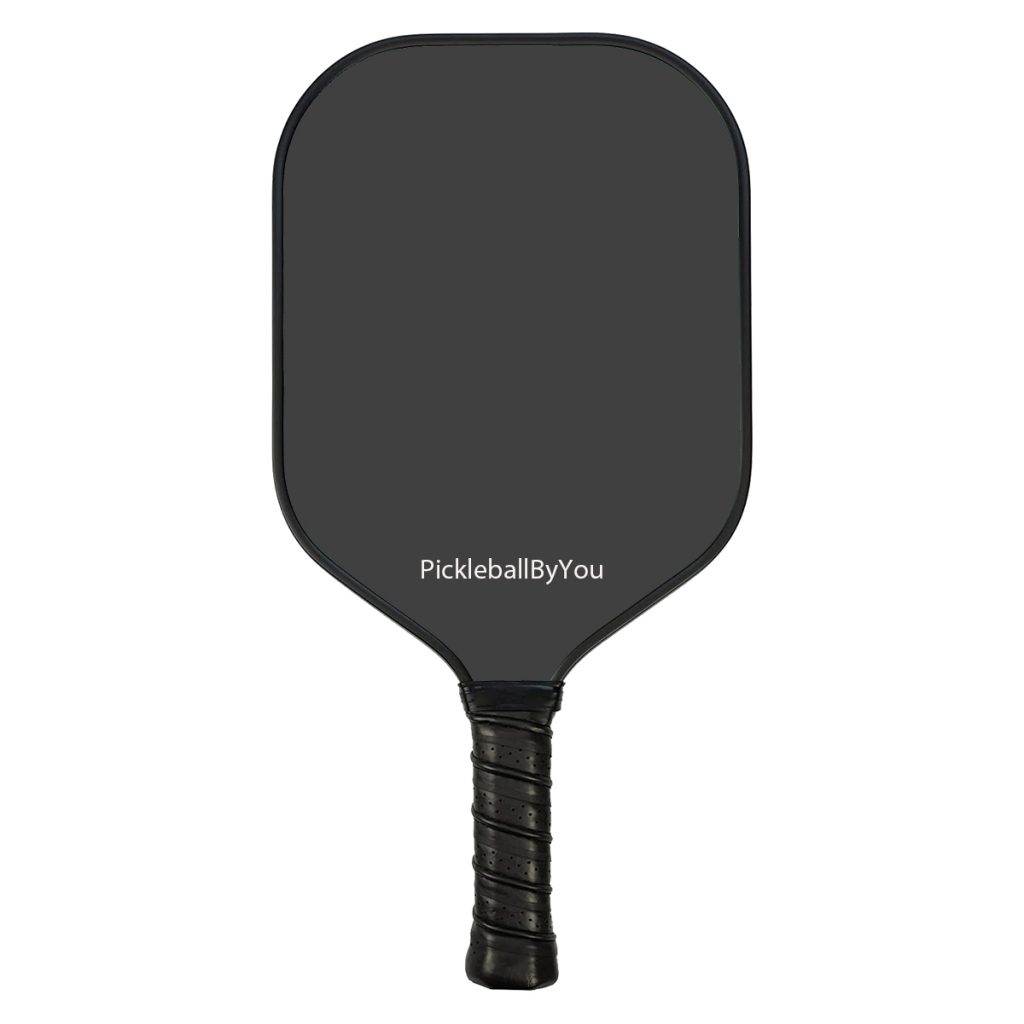 When discussing paddle materials, they are generally divided into surface materials and core materials. The material affects the paddle's weight, strength, maneuverability, durability, and price.
| Material | Wood | Carbon Fiber | Fiberglass |
| --- | --- | --- | --- |
| | | | |
| | | | |
| | | Light (Thickness less than 1mm) | |
| | | | |
| Material | Aluminum Core | Nomex | Polypropylene |
| --- | --- | --- | --- |
| | | | |
| | | | |
| | | | |
| | | | |
| | | | |
What Kind of Person Needs a Custom Pickleball Paddle
High Intensity and Competitiveness
If you are a pickleball player who trains hard or plays competitively, you may benefit from the Custom Pickleball Paddle. With Custom Paddle, you can choose the right weight, balance and material for your technical needs and playing style for optimal performance and a competitive edge.
If you're looking to be unique on the court and stand out from the crowd, the Custom Pickleball Paddle is a great choice. You can design unique looks, colors and patterns, making the racquet a vehicle to express your personal style and personality.
Custom Pickleball Paddle is also suitable for teams or organizations. Teams may choose to design uniform paddles for their members to demonstrate team identity and cohesion. This Custom Paddle can also be used as a promotional tool for the team, motivating members and attracting the attention of sponsors.
Pickleball Paddle Custom Method
1. Recommended by Playing Style Custom Pickleball Paddle
| Playing Style | Shape | Face | Core | Thickness |
| --- | --- | --- | --- | --- |
| | | | | |
| | | | | |
| | | | | |
2. Recommended According to Height Custom Pickleball Paddle
| Height | Shape | Face | Core | Thickness |
| --- | --- | --- | --- | --- |
| | | | | |
| | | | | |
| | | | | |
3. Recommended by Rating Custom Pickleball Paddle
| Rating | Shape | Face | Core | Thickness |
| --- | --- | --- | --- | --- |
| | | | | |
| | | | | |
| | | | | |
| | | | | |
Where can I Custom Pickleball Paddle?
Flat rate pricing, free shipping and free product renderings are available at Pickleballbyyou custom pickleball paddles, then you can find more details and start your order directly in Pickleballbyyou Custom pickleball paddles.
Customized pickleball paddle is an option to suit individual preferences and needs, and it offers golfers many benefits. Custom racquets offer advantages such as personalization, ideal weight and balance, performance enhancements, and a comfortable grip over standard racquets. When designing a custom pickleball paddle, attention needs to be paid to factors such as image resolution, color selection, and design balance. Choosing the right weight, size and shape is also very important for improving game performance. Material selection affects a racquet's weight, strength, handling and durability. Custom pickleball racquets are suitable for high-intensity and competitive players, individuals who desire to be different, and teams or organizations.
How soon will I get my Custom Pickleball Paddle after placing an order?
If you are satisfied with the renderings, you can get your custom pickleball paddle within about 2 weeks after finalization including logistics time. If you need wholesale customization, the time may be extended, but it will not exceed three weeks at most.
How can I create my own custom pickleball paddle?
Send us your picture and let us know, your choice of shape, panel, core material and thickness

We will feedback the renderings within 24 hours and finalize with you

After placing the order, we will arrange the factory to start production

You will get your paddle in about two weeks
What is the most important thing when custom pickleball paddle?
To choose a suitable paddle, you need to pay attention to 4 factors:
Paddle Shape

Paddle Weight

Grip Size

Your Favorite Picture